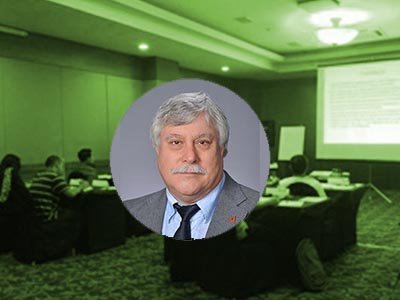 Date
:
November 20 - 24, 2017 (5 days)
Venue
:
Harris Suites FX Sudirman, Jakarta - Indonesia
Instructor
:
Robert Shoup - Subsurface Consultants & Associates, LLC - USA
Language
:
English
Cost
EARLY BIRD REGISTRATION UNTIL OCTOBER 20, 2017
IDR 29.000.000 (IPA Individual Members)
IDR 34.000.000 (Non- IPA Individual Members)
REGULAR REGISTRATION AFTER OCTOBER 20, 2017
IDR 34.000.000 (IPA Individual Members)
IDR 39.000.000 (Non- IPA Individual Members)
We encourage Participants to apply as IPA Professional Division Member to get benefit for registration cost.
COURSE DESCRIPTION
This is the most demanded subsurface mapping course in the world. From the newly graduated geoscientist or engineer to the seasoned professional, the course provides the applied, hands-on knowledge required to generate sound subsurface maps. Participants of this course will receive the Applied Subsurface Geological Mapping with Structural Methods 2nd edition textbook (2003) and a lab manual with exercises. Solutions will be provided throughout the course.
Subsurface geologic maps are the most important and widely used documents in petroleum exploration and development. Geoscientists and engineers are expected to understand and be able to efficiently and accurately generate many types of subsurface maps. Nevertheless, many geoscientists have not had sufficient formal training in the fundamental principles and methods that underlie accurately constructed subsurface maps, whether the data source is a seismic interpretation, well log correlation, or both.
This course covers both fundamental and advanced methods of subsurface mapping that have been used by the most proficient exploration and development geoscientists in the industry, as well as an introduction to some of the more recent advances in interpretation. Mapping techniques, examples and exercises for extensional and compressional tectonic settings are the core of the course. Diapiric and strike-slip faulted structures are also discussed. In addition, volumetric mapping is presented as well as some of the numerous pitfalls in reservoir volume determinations using isochore maps.
COURSE CONTENT
Philosophical doctrine, workflow, and methodology of mapping
Contouring and contouring techniques
Directionally drilled wells and directional surveys (applications to mapping)
Log correlation techniques for vertical and deviated wells (applications to mapping)
Integration of geophysical data in subsurface mapping
Cross section construction for extensional and compressional tectonic settings
Fault surface mapping using well log and seismic data
Structure mapping in extensional contractional, strike-slip and diapiric tectonic settings
Isochore map construction (bottom water and edge water reservoirs)
Net pay correction factors for directionally drilled wells
Volumetric calculations
Isopach map construction
ABOUT THE INSTRUCTOR
Robert 'Bob' Shoup is a Board Certified Petroleum Geologist with over 36 years experience in basin analysis, regional studies, new play generation, prospect evaluation, field studies and development planning, drilling operations, and project management. Bob began his career at Shell Oil in 1980; followed by four years working for private oil companies before becoming an independent consultant in 2003. He currently serves as the Chief Geologist for Subsurface Consultants & Associates, the Director of Clastic Reservoir Systems, and sits on the Board of Directors for Sandalphon Energy. Over the course of his career he has discovered or helped to discover over 130 MMBOE.
Bob is a recognized expert in clastic depositional environments and in syndepositional structural systems. In 1994 he was a nominee for the Pulitzer Prize in drama for his play Second Alarm.
Bob is an active contributor in the professional community. He is a Past President of Bangkoks SEAPEX and of AAPG's Division of Professional Affairs and past Secretary-Editor and Chair of the AAPG House of Delegates. He has served on numerous AAPG Committees and was Chairman of AAPG's Mentor, Membership and Student Chapter Committees. He is a recipient of eight AAPG Certificates of Merit; AAPG's Distinguished Service Award in 2000, and the DPA's Distinguished Service Award in 2008 and made Life Member of the DPA in 2010.
Bob is also a life member of the IPA, the Geological Society of Malaysia, and the South East Asia Exploration Society
He currently serves as an ethics lecturer for the DPA, as well as the Editor for the DPA's newsletter "The Correlator" and he is the President of Bangkok's Chapter of the South East Asia Petroleum Exploration Society.
Bob teaches various SCA training courses areas around the world.
For registration and detail information, please contact:

IPA SECRETARIAT
Indonesia Stock Exchange Building - Tower 2, 20th Floor (Suite 2001)
Jln. Jendral Sudirman Kav. 52-53
Jakarta 12190 - Indonesia
Telephone : (62-21) 515-5959
Facsimile : (62-21) 5140-2545; 5140-2546
E-mail : anna.sulistiyaningsih@ipa.or.id or maydy.rahmadani@ipa.or.id
Events Timeline